ANIB Bulls win RSA cricket trophy 2014
The ANIB Bulls celebrate after lifting the RSA cricket trophy 2014!
The Al Nabooda Insurance Brokers' in-house cricket squad the 'ANIB Bulls' beat ENBD in the finals of the RSA trophy 2014. The RSA cricket trophy is held every year amongst insurance brokers and bancassurance teams.
With a terrific bowling performance that restricted ENBD to 101 in 19 overs, the Bulls chased and won by 4 wickets in the 16th over. Losing two key batsmen to poor umpiring decisions, a momentum shift saw wickets falling at regular intervals and the Bulls batting order being
Neville pounces on the catch of the match as he sprints from the boundary line and dives. Even the cameraman couldn't hold his hands steady but Neville the devil did!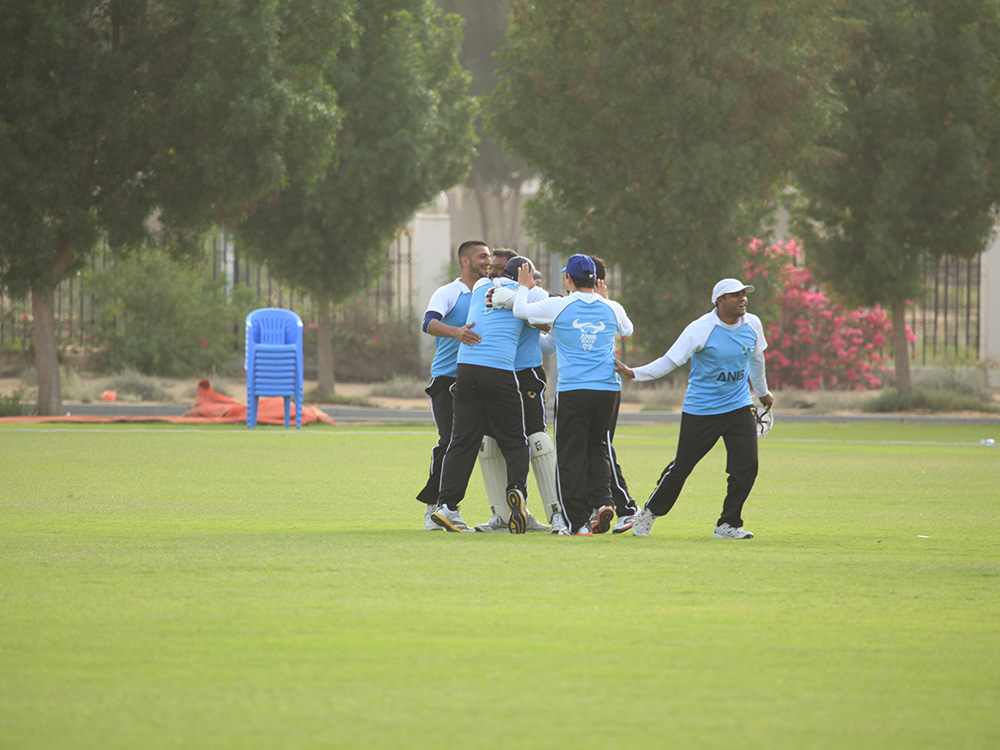 The catch that started it all was taken by our MD, Mr. Rajagopal behind the wickets! Diving to his right, he took a one hander in the very first over to shatter the confidence of the opposition. The ANIB Bulls exult after the wicket!
Another wicket falls courtesy of Anurag and the ANIB Bulls celebrate!
Another one bites the dust as Dihan hits the target!
'well bowled mate' says Ahsan to Vijesh as Neville walks by discussing the next trap to set!
The Bulls charge into the arena as the winning run is scored!
put to the test. Led by a gritty innings by Captain Danish Jabbar, the ANIB Bulls came out triumphant to lift the trophy that had eluded them twice.
The pics show the ANIB Bulls savouring their victory in style!
Captain Dan is all smiles as he trots around with the trophy. he played an exceptional captain's knock to see the ANIB Bulls home to victory!
Lifting up the man of the finals! teammates carry Cappy Dan home!